If you are one of those who hate the task of filing returns, then the best option for you would be to hire tax advisors. Filing tax returns on your own can be a daunting task. If you miss out on any important proof, then you might need to pay advance tax. Secondly, tax laws keep changing and it becomes tough for you to be updated about everything.
Role of Tax Advisors
You cannot simply hire the ones that pop up on your search engines. Research is the key here. Before you jump the gun, you first need to know who tax advisors are and how their services can be beneficial to you.
If you are looking for credible tax advisor companies, you can investigate a company like PMW that can help you with filing your taxes. Now, what does a tax advisor do? In simple words, tax advisors help in managing your financial paperwork related to any kind of tax. They can help you in computing your taxes and filing them.
Many times, it is natural to get confused between accountants and tax advisors, but there is a thin line of difference between the same. Accountants are responsible for bookkeeping or keeping track of financial transactions of your organization.
Tax advisors, on the other hand, are specialists in their field. They will have in-depth knowledge of all the tax regulations of the state and can give you financial advice on how well you can manage your taxes.
In addition to this, tax advisors can:
Help in filing your tax returns
Can give you legal advice on tax-related issues
They can also help in maintaining your tax records
So, what are the benefits of hiring a tax advisor?
Some of the benefits include:
They can help in minimizing your tax liabilities
You can save time with the hassles involved in the tax filing
They ensure that all your paperwork is filed within the stipulated time to avoid tax penalties
They are aware of various tax codes required to file respective taxes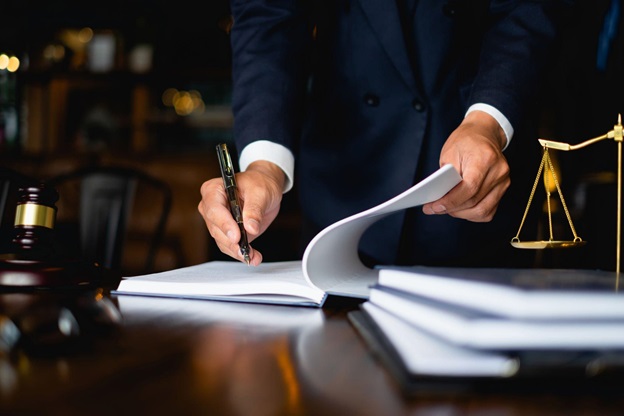 Image Credit: https://www.istockphoto.com/photo/close-up-lawyer-businessman-working-or-reading-lawbook-in-office-workplace-for-gm956243400-261087489?phrase=Tax%20Advisors
Hiring the Right Tax Advisors for Your Business
When it comes to hiring tax advisors, you need to plan wisely. Asking the right questions can help you in determining whether the company is well-versed in its field.
Some basic questions that you need to ask are:
Are they licensed?
How many years of experience do they have?
Do they have the necessary certifications or qualifications?
Are they well-versed with the tax regulations of the state?
What are the different tax services that they offer?
Can they share any references of their clients?
What are the strategies they would adopt for secure financial planning for your business?
Can they offer any reports or statistics on their work?
Now, that you have prepared a list of questions to ask your potential tax advisors, the next step is to do your homework and shortlist tax advisors that would suit your requirements.
The first step is to understand your requirement for a tax advisor. Are you looking for tax filing, financial advice, or help with tax issues? Once you are confident about your requirements, you need to search for credible tax advisers. You can either hire them from companies or freelancers.
The best place to find tax advisors is online. You can check out the reviews and ratings offered by existing customers and filter for those that suit your purpose. You can even take references from your friends, or peers.
Shortlist the potential advisors and set up a meeting. You can ask all the above-mentioned basic questions to gauge the experience of the advisors. If satisfied, you can sign the contract and well them aboard.
Conclusion
Hiring the right tax advisors can save you from stress. You can use the saved time to focus on other important aspects of your business.